I got nominated for my second award, only a few days after my first! Woo, what is happening?! 😀 Because of how excited I am to be nominated (again), here's a bonus post.
BLOG RULES:
* Thank the blogger who nominated you and provide a link to their blog.
* Write a post to show your blog award.
* Give a brief story about how your blog started.
* Give two pieces of advice to new bloggers.
* Select 15 bloggers you want to give this award to.
* Comment on each blog and let them know you have nominated them and provide a link to the post you created.
Thanks to Life is as Easy As… for the nomination! She is currently doing a cool thing at the moment called Organisation is as easy as…where she lists her plans for the day in the morning, then updates us on how she went at the end of the day! It's very inspiring, and I don't think I could be that organised. Go check her out 😀
So, story time. How did I start this blog? In my last year of high school (Back in 2009, man that's almost 10 years ago), I started a blog on a site I can't remember. It was fun, but it didn't have a good way to build a community, so I lost interest. I made this blog back in June or July last year, but I uploaded nothing. I forgot about it before even starting. Then around a month ago, I remembered it and decided I would finally start writing in it. My first post was just an introduction. It's called Hi. I wanted to use the blog to recount travel adventures, as well as general life adventures. Each day, I like to come up with something new to blog about. Some days, I get really excited and write numerous blogs. I have around 10 drafts at the moment. I just love writing! Just do it! (Ignore the Shia Le Beouf memes that come attached to this statement now…)
I still consider myself a newbie blogger, so I feel a bit odd giving out advice. But here goes:
Don't compare yourself to the 'big blogs'
I did this a lot at the beginning, I looked at big blogs who had a substantial following and professional pictures and I felt a little disheartened. I'll never be like them. You know what, I probably still won't. I love taking pictures with my phone too much. Focus on your own blog, what do you want to talk about and share. Be proud of what you're posting and keep going with it.
Even if you're making great posts that you're proud of, it's not going to get noticed too much if you don't share it. I don't mean spamming other blogs with your name or links to posts. But look around, find similar blogs, comment on posts your like, share your opinion. Take part in the Daily Post's daily prompts or Weekly Photo challenges. Get yourself out there. I found it hard at first, but it's become a fun additional part of my blogging activities! It's led me to find awesome people in this community, and some even followed me back to my own blog.
I nominate:
The final part of this award is to comment on each of these lovely peeps blogs' and let them know I've nominated them. So I'm off to do that 🙂
This is my second award, and I'm just as excited to receive this one as I was with the first. Versatile Blogger Award. Go check it out if you want, maybe I've tagged you in that one 😛 (It's hard trying to narrow the list down to 15).
Edit: I just also hit 100 followers!?! Thank you guys so much 😀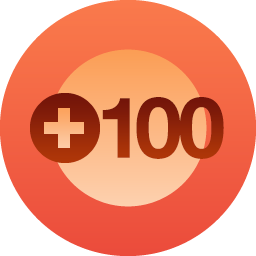 Angela.