Hello all! I'm here with yet another blog award/challenge/tag. Now normally, I do these as a bonus post, but after a month of blogging every day (and sometimes twice a day), I can feel myself starting to burn out. I love blogging, and I still want to do it everyday, but I 'll stick to just one a day, as sometimes I get writer's (or blogger's) block. Especially now, as I won't be going on as many travel adventures, as Rory and I are in the process of saving up for our first home. I will still post twice on Thursday probably, cause I like to do the Daily Post's Weekly Photo Challenge.
Anyway, does anyone know where the name of this challenge came from? Dawn Dagger is such a cool phrase, but I have no idea who came up with it…
Thanks to Est. WANDER for the nomination! Go check her out, she mainly blogs about travel, but also about lifestyle and day to day life.
I can't write a blog without pictures, so have this stock photo of a sunrise 🙂
RULES:
Answer the questions given
Give 10 questions for your nominees
Tag 1-10 people
Nikki's questions for me are:
What was your first concert?
I believe it was Ed Sheeran, when he last came to Wellington in March 2013. I don't go to concerts much. Mostly cause I never know they're on.
What is your go-to summer drink?
Not specifically for summer, but my go to drinks are normally an iced drink of some kind. Frappucino, milkshake, soda, etc. It's always one of those.
What did you last purchase?
Food. I bought a key lime pie from Sweet Mother's Kitchen. They have the best pie.
I was having dinner with a friend, and I love to go for desserts.
What kind of phone do you have?
Samsung J5, I think. I got it around a year ago and it's been my trusty companion in taking photos during travels and daily life.
Do you have a cute/cool case? If so, picture please!
I got this online, it's a blue and pink cherry blossoms case which is slowly breaking cause I keep playing with it.
What is your favorite donut? (glazed, chocolate, pink w/ sprinkles…etc.)
Oooh…I think my favourite donut is those jam ball ones. They're dusted with sugar, and have all that jam in the middle when you bite into it. There's no good or dignified way to eat it, but they're so good!
To me, they're both sneakers. I don't actually think I have either.
Coffee!!!
Current trend: Off-the-shoulder floral top or ruffle gingham crop?
I had to look up the ruffle gingham crop, cause I had no idea what that was. I am never aware of trends XD I prefer the off-the-shoulder floral top. Mostly cause I own lots of floral tops, and I like floral things in general.
What is your regular Starbucks order?
I don't have one. I always choose whatever new frappucino they're doing at the moment. If I remember though, I like to ask for Butterbeer from their secret menu.
Here we go again with the 10 questions. Let's see what I can think of.
What is your earliest memory?
What is your favourite shop to spend money in?
What were you doing 24 hours earlier?
What are your plans for Easter, if any?
What is the last item of clothing you bought and when?
Have you ever made a prank call?
What's the best compliment you've ever received?
Has anyone ever mispronounced or misspelled your name?
What did you do for your latest birthday?
What question do you hate to answer?
Time to tag. I've tried to tag people who haven't done this challenge. Or at least I don't think they have. Feel free to take part or not 😀
There you have it. If you want to have a look at my other awards and learn more random facts about me, you can see them here: The Blue Sky Tag, Sunshine Blogger Award, The Blogger Recognition Award (100 Followers!), and Versatile Blogger Award.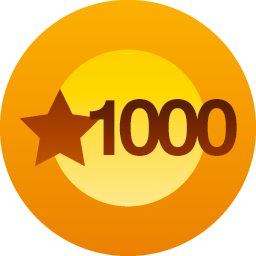 Also, I just wanted to say that I checked my notifications which says I've reached 1000 likes!! Thank you guys so much for reading and liking my rambles and posts! You're all amazing, and I hope you liked this one too 🙂
Thanks again to Nikki for the nomination, and I'll be back with another blog tomorrow! I'm thinking of writing about past jobs I've done, cause I've been at the same one for over two years now. Which is a pretty long time for me, especially since I'm still happy there 🙂
Angela.