Previously, C is for Community, and now here comes D. Which you will already know the answer to because of the title 🙂
D is for Doctor Who.
This show has been on for decades, literally. The newer series was a reboot which began in 2005, and was one of the earliest shows I every became a fan of. It was my introduction into being sucked into a television show, and wanting to explore all the behind the scenes and secrets of a show. For that, Doctor Who will always have a soft spot in my heart.
The premise of the show revolves around the Doctor. He's an ancient alien (Time Lord) from Galifrey, a world that has since perished (or has it still, I'm not up to date with it anymore), and travels through time and space with an assortment of companions, most often humans. He also can change his body, not like shape shifting though. Before he dies, he regenerates his body to become a new person basically. Same memories, but different everything else. So far, there has been 12 reincarnations.
I haven't watched since the 11th doctor, because I just lost interest. In it's run, the show has had amazing, well-written episodes, as well as it's fair share of duds. When it does an episode well, it can be terrifying, heartbreaking or joyous, depending on what issue that episode is tackling. They also have their set rules on the do's and don'ts of time travel. As a Time Lord, the Doctor knows what they can or can't do/change. But sometimes he still breaks them, or maybe that's the writer's doing.
Anyway, time to look at some gifs of quotes. Cause I have fun looking these up.
So, the companions tend to change every now and then, as well as the Doctor. For my favourite characters, I'm going to limit myself to the 10th and 11th regeneration of the Doctor, and their main companions. Or this could go on forever.
10th Doctor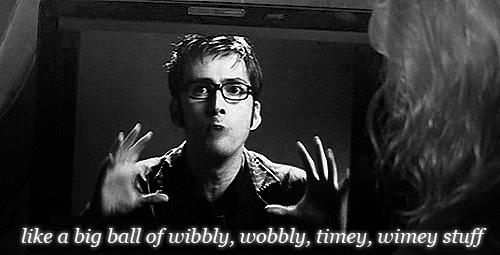 He was the reason I got sucked into this in the first place. His version tends to speak very fast, and gets very carried away. He is also very energetic and can't stop moving around as he speaks. He tends to wear suits with chucks, sometimes glasses, and has amazing hair. He's a fan favourite of many in the series, and is played by David Tennant.
Rose Tyler
A former retail worker, Rose is one of the companions who stuck around the longest. She meets the 9th version and is still with him when he reincarnates into the 10th. She is always game for anything and ready for the next adventure. She is the heart of the team, lovely, sweet and passionate, but definitely not a pushover. As time goes on, her and the Doctor fall in love. Sounds cliche to write that, but watching those two together I was shipping them before I even realised that was a thing. She's played by Billie Piper.
Donna Noble
Donna is one of my all-time favourite companions. She has a temper, is very aggressive and pushy, but has a strong sense of justice and empathy. She keeps the Doctor in check, and is a delight to watch as she interacts with everyone. The Doctor and Donna became an amazing pair, working together and having adventures. They are strictly platonic, and you can see that even the actors are the best of friends and having a blast. She's played by Catherine Tate.
11th Doctor
The next reincarnation of the Doctor is the youngest yet. He loves to wear tweed jackets, bowties, suspenders, and the occasional glasses. He still carries on the goofy, overexcited aspects, but when he gets angry or upset, he doesn't hold back. He's my personal favourite of the Doctors, as I just enjoyed watching him on screen. I grew especially attached to the team that is him, Amy and Rory. He's played by Matt Smith.
Amy Pond/Williams
I wasn't sure of Amy at first. Especially as they had a weird love triangle going with her, the Doctor and Rory. I was happy when that sorted itself out. Amy is very passionate, she's flirty, impulsive and longing to have an adventure. She is also very loyal (once that weird triangle thing ends) to Rory. The Doctor is just her best friend, who she trusts with her life. She's played by Karen Gillian.
Rory Williams Rory's character also took a while to warm up. At first, he was just on the sidelines of the aventures, but soon becomes a full-fledged team member. These are my favourite episodes. Where all three are having adventures. His loyalty to Amy brings out the character's best moments, and he often plays the straight man against the Doctor's and Amy's antics, calling them back to reality. He's played by Arthur Darvill.
As always, I hope you enjoy reading this spoiler-free (I hope) teaser about Doctor Who. I try not to give away too much on these, in case any of you decide to watch the show who haven't before. Doctor Who was one of the first fandoms I was part of (that and Harry Potter), and I'll always think fondly of it. I still rewatch the earlier seasons of the reboot, but I feel like now it's been going on too long, and could use another break. But that's just me.
E is next. I've been struggling with this one…I hope I come up with one before Tuesday.
Angela.