Welcome to Day 10 of the Blogging Challenge. Maggie and Cheila, we're now a third of the way through! Woo! Are you ready for today's prompt? It's all about favourite books!
I do not have a specific favourite book. Harry Potter is very dear to me, as it was the first series that sucked me into another world. It is one of the top, however, for this prompt, I want to look at my favourite books over a range of genres.
Children's
This was my all time favourite book as a kid. Even now, I love reading it to the kids at the centre, even the babies love it. It's animals! How can you not love animals? It's cute and charming, but it will also get ripped because one year olds like to test how far back you can pull the flap.
Fantasy
Harry Potter Series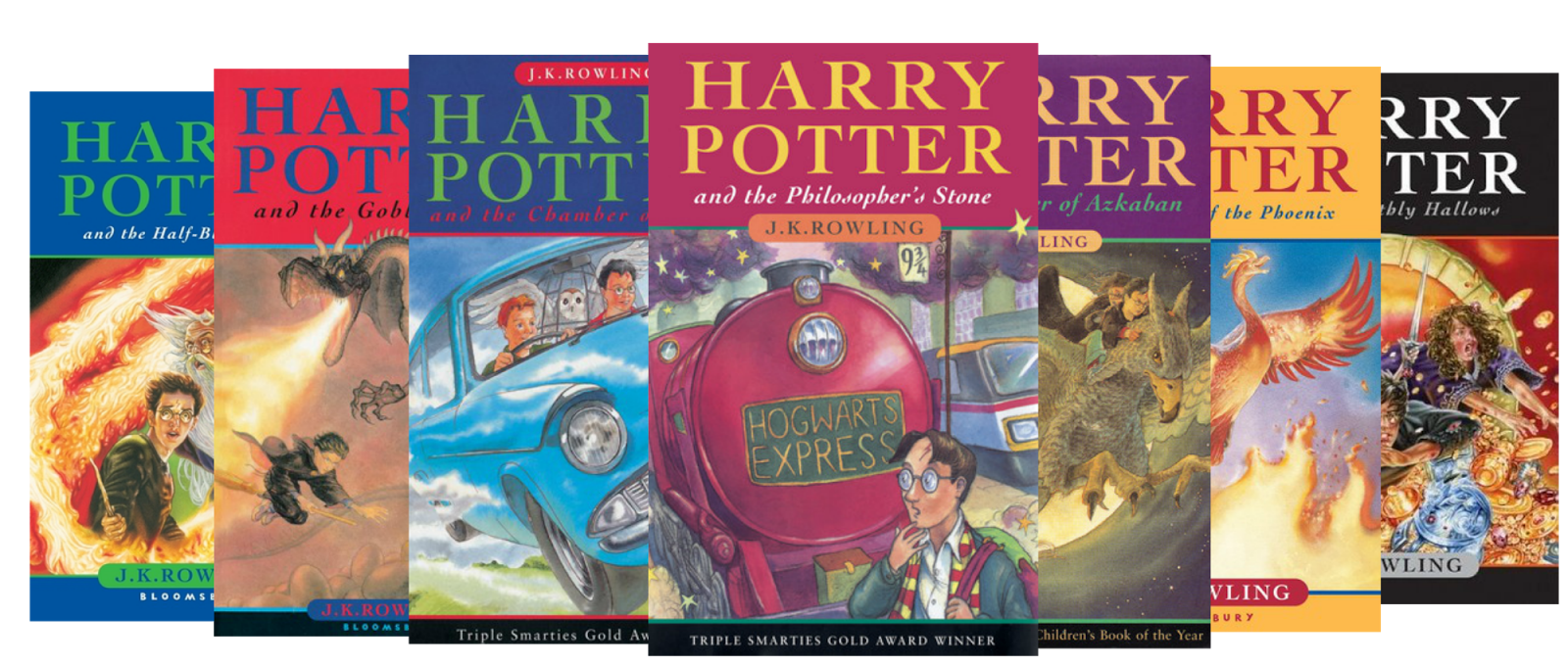 I mean, you knew it was going to show up. I reread this series so many times growing up. It's about a world of magic. I loved the characters, I got emotionally invested in what was going on, and felt devastated when beloved characters died as the series progressed. I loved that the series got darker, and the tone more serious as the story went on, as we grew up, so did Harry and co, but they faced greater dangers than us. I read Deathly Hallows in a day, even with school on. I walked around with my face in the book, because I had to know how it ended. However, I am not a fan of Cursed Child, and I hate that it's considered the eighth installment. I choose to ignore that story.
Young Adult
The Hunger Games Trilogy
I love YA as a series. I'm very much a sucker for these dystopian novels as well. However to me, Hunger Games stood out from the crowd. I really enjoyed her writing from first person perspective, and the concept of the Hunger Games themselves was interesting. I got sucked into the world, and I couldn't put the books down.
Chick Lit
I read my fair share of Chick Lit, it's fun and light reading. Perfect if you want something you can put down and come back to. I enjoyed the Shopaholic series, it was the first chick lit series that I read, and it stuck with me. I will say though, that I'm not enjoying the later book in the series. Maybe it's cause I'm older and I've outgrown it, but it's lost that spark for me. Also Becky is just starting to act really entitled and making choices that seem out of character.
Biographies
I've been quite fond of reading biographies. Amy Poehler's Yes Please was the best one for me. I again couldn't put it down, a sign of a good book, and I felt like I learnt a lot while reading it. Amy Poehler is someone I look up to, she's amazing, funny and strong. She gave me the mantra of "Good for her, not for me". I read this at uni, and I was already starting to look at the world through less judging and jealous eyes, but more supportive. If someone makes lifestyle choices I wouldn't, I would support and encourage them even if I had no intention of joining, rather than pointing and gossiping. I enjoy this outlook a lot more, and it's made me happier.
Mystery/Thriller
No other book made me gasp quite as much as Gone Girl. I read this in less than a day. I got pulled in, I trusted the narrators completely, I felt like I knew where this story was going. Boy, was I wrong. The book kept me guessing till the end.
Sci-Fi
I don't actually read that many sci-fi novels, I don't think. Does Hitchhiker's Guide to the Galaxy count? I like sci-fi books, which don't take themselves too seriously. While there was techno babble about NASA, enginerring and botany in this book, it was kept enjoyable by the main character, Mark Watney. The blog format helped me to read the book on and off as I could come in and out of the story as I pleased. I really liked the book 😀
So there you go! A couple of my favourite books from different genres! I don't read as much now as I used to, I'm trying to change that. Currently I'm reading Me Before You, but I'm barely into it. I'm enjoying it, but work and life keeps pulling me away from it. Rude.
Angela.