Hello friends! So we are now at the end of June. We're officially entering the second half of 2017. Before diving into my favourites for the month, just a heads up! I've been commenting on lots of posts this morning and they're vanishing again. So please check your spam and free me from there if possible 😀 (Why does WordPress do this to me every two weeks??) Anyway, back to the topic at hand.
Let me share with you some favourites of mine from the past month.
Movies
Wonder Woman
Aaah! I can't get over how much I love this movie. I'm a sucker in general for superhero movies, but this one just got me so pumped. It may be because it has female lead, but the fight scenes seemed so much better to me than other superhero movies. Plus Gal Gadot is amazing. I also loved her relationship with Chris Pine's character, the romance came second to their partnership of getting the job done, which really more action movies should do.
Sleeping with Other People
Not a recent movie, but one I recently watched. I haven't watched any rom coms in ages, so I figured let's find a random recent one. This one wasn't the greatest, but it was just silly fun. It's all about sex basically, and the 'modern' dating scene, which I don't really get, but I liked the two leads. Also, I saw lots of familiar faces in this movie, and it made me laugh.
Music
Hayley Kiyoko – Grovel to Tempo
The only other song I know of Hayley's is "Girls Like Girls", I was going down a YouTube hole, and after listening to that one, I was curious about this. It's very catchy and makes me want to do some crazy dancing of my own. I have it stuck in my head a lot.
AJR – Weak
A catchy song to sing/yell and dance too. I love dance/electronic songs. They often find their way to me, and then I listen to them over and over for weeks until I find another one. Rory and I often sing/yell this together in the car when it shows up. We know the whole thing off by heart 😂
Books
Buffering by Hannah Hart
I am a fan of My Drunk Kitchen, always have been, so it was interesting to learn more about the life of the person behind it all. I've been following Hannah since 2013, and she is such a positive, amazing person. It was really inspiring to read about her life, and how in a way, we're all still learning. We need time to 'buffer', and to figure things out.
The Subtle Art of Not Giving a F*ck by Mark Manson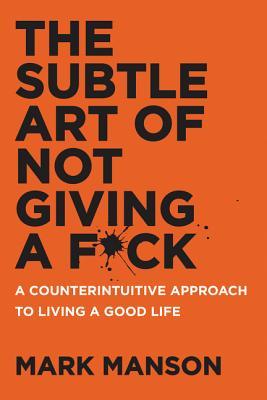 Another non-fiction read. This is like a self-help book for millenials. The title is misleading, it's not about not giving a fuck about anything, it's about finding out what things we should give a fuck about. The important things in life, and letting the not-so-important things go. This book reminds us that it's okay to fail, to get mad, to suck, we're not perfect, no one is.
Games
Singstar
So I haven't played this much this past month. Just once, but I forgot how much I love singing ABBA! I am not a great singer, but I'm not terrible either, I just love karaoke. I haven't yet worked up the nerve to do karaoke in public, but at home, let me at it!
Risk
Okay, so another game I've only played once, but it was so much fun! Once we all got the hang of the rules, it was really fun. I could see it leading to some disagreements though, as you fight over certain countries, or keep losing battles 😂
Something New
Vlogging is the new thing I've done this month. I have now done two videos, where I sit down in front of the camera and chat. It's feeling less weird now than the first time I did it, but I would love to do other kinds of vlogs. I like the idea of a "Day in the Life", or a "Come with Me", a "House Tour", or maybe even baking? I'm already thinking of future ideas, but I may give it a while, I'm still recovering from the Q'n'A post 😂
What are some of your favourites from this month?
Angela.