So I keep getting enough nominations to fill up another Bonus Round post! You guys are too much!
Let's get started!
The Cramm Award
Original post here – The Cramm Award
Riya nominated me for this one. Her blog aims to inspire and motivate one and all. She shares photos, travels, inspiration and even shares her writing with us all. Go check her out! My dear friend Maggie recently nominated me for this award as well! I'm sure many of you know her already, but she is another big part of this blogging community and always writes and shares amazing posts!
Riya's challenge question:
What is your meaning of life?
Honestly, my meaning of life is to be happy. That may be cliche, but that's honestly all I want in life. To be happy. I don't really have any urges to go deeper than that, to say I want to change the world, or live some crazy life. As long as I'm happy, I'm okay.
Maggie's challenge question:
My Question: What's your favorite inspiring quote? Why does it inspire you?
'I've learned that people will forget what you said, people will forget what you did, but people will never forget how you made them feel.' Maya Angelou's quote always reminds me of being aware of what I'm doing, or what I'm saying. If we think back on people we knew, even people we met for a short time, the impact they leave, how they made us feel is often the first thing we remember. So, I try to be positive, supportive and encouraging, rather than rude, dismissive or judgy (is that a word?).
The Versatile Blogger Award
Original post here – Versatile Blogger Award
Jamie nominated me for this one. If you guys don't know Jamie, you're missing out. She blogs over at Don't Give a Jam, and is one of the best beauty and lifestyle blogs out there! Go say hi.
So, time for 7 random facts. Let's see what comes to mind this time.
I have been writing in my little three year journal for a few weeks, and it's so much fun
I am beyond excited for my second tattoo next month
I have a stuffed animal whose name is Daisy. She's a cow, and was one of my earliest gifts from Rory.
I reeeally want to buy a giant pack of Stabilo Fineliner pens (it's a pack of 40), but it's $80 and I'm meant to be saving more
I was self conscious of my smile for the longest time because of my teeth
I have never had my hair cut professionally but I keep wanting to, but again, money
I love gel nail polish, but man is it a pain to get off
The Real Neat Blog Award
Original post here – The Real Neat Blog Award
Andy nominated me for this one. She is a blogger in the Philippines and is friends with the lovely Jirah! Go say hi!
Here are her questions:
What is your spirit animal?
Ooh, good question! I have no idea, I'm gonna go with a duck.
What is your favorite classic movie?
Out of the classics, I'm gonna go with Casablanca. I'd heard a lot about it, and I thought it might just be hype, but then I watched it and it was so good!
What choice did you make that you're really grateful for?
Going back to study and getting my qualifications as a teacher!
What is your favorite sea creature? 
This teeny tiny octopus.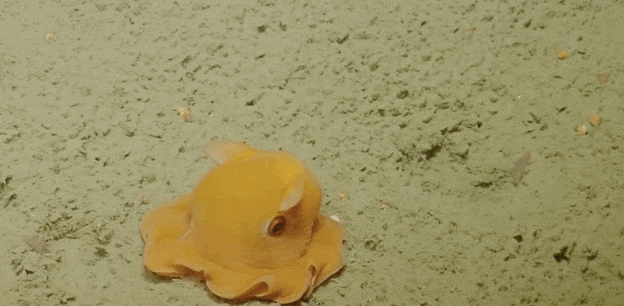 If shooting star wishes do come true,  what will you wish for? 
A house.
If you could be invisible for a day what will you do? 
I don't know. Pretend to be a ghost? I really don't know XD
What is it that you miss doing? 
Wandering around outside in nice weather. Leave me alone winter.
Jirah nominated me too. Did you guys both plan to tag me? 😛 I have a feeling it was just a happy accident, but nevertheless I am thrilled to bits!!
Here are her questions:
What is your dream job or your current job?
Current job is being an early childhood teacher. I'm very happy spending my days with all the babies and toddlers.
What motivates you in blogging?
A big part is the community. Another big part is me having a creative outlet for all my thoughts and ideas 🙂
What is your favourite food?
So many foods. Pizza, cupcakes, cookies, donuts, mangos…
What do you think is the book that relates to your life so much?
Ooh, excellent question…honestly, I don't think I've come across a book like that yet.
Do you have a blogging schedule or do you post whenever you feel like it?
I stick to my daily blogging schedule 😀
Do you have any pets at home?
Nope
What is your favourite beauty brand?
I don't really know…I don't think I have one. I shop around a lot.
The Travel Tag
Original post here – Travel Tag
Jordyn nominated me for this. She blogs over at The Obsession Begins and is just the loveliest. She shares tips, advice, little projects, and inspiration. Please go say hi!
I won't be answering the questions for this tag, as my answers remain the same from my original post. But I wanted to thank Jordyn for tagging me!
Now, Esther nominated me for the following three awards. She did say that if you accept the nomination, you have to do at least two. Well, I'm gonna accept all three! Btw, you guys should check out Esther's blog. She's a writer and storyteller, and she's also awesome.
The Liebster Award
Original post here – The Liebster Award
I will answer the questions she answered, as she didn't ask any (which is fair enough, I often struggle trying to come up with lots of questions!)
What is your favourite ice cream flavor?
Dunno, I like cookies and cream quite a bit though.
What was the last book you read? Would you recommend it to me? 
The last book I finished was After You. I would totally recommend it! I like Jojo's writing style, this one felt lighter than Me Before You. It did have it's emotional moments, but not as much as the original 🙂
Do you have any tattoos or piercings? 
One tattoo, and the regular ear piercings
What is your favourite season?
Spring/Summer, that weird in between bit.
What is your favourite sport? 
None? Oh, well I like swimming, I'm not good at it though.
What do you look for in a boyfriend / girlfriend? 
I would say humour. We gotta get along and have a similar sense of humour (luckily I've found that 🙂 )
What is your favorite blog post you've written? 
Ummmm…I write so many..and many become favourites. Currently though, I'm gonna say my Have You Met series. I've been loving getting a chance to learn more and talk about my favourite blogging friends 😀
What is your favourite colour? 
Blue, probably. It changes a lot.
Coffee
Cats.
There was a few. Totally Spies. Cardcaptor Sakura. Yu-Gi-Oh! That one X-Men series…
The Blogger Recognition Award
Original post here – The Blogger Recognition Award (100 Followers!)
I've told the story of how my blog started. So I will give my two pieces of advice.
Plan out your posts. I've found that's the easiest way (for me) to stick to my blogging schedule.
Double check. Before you hit publish, reread what you've just written. Does it make sense, is there any changes you wanna make? Sometimes, I like to leave it for a bit, then come back later and read it with fresh eyes.
One Lovely Blog Award
Original post here – One Lovely Blog Award
Get ready for more facts!
I like to do those "Try Not to Sing/Dance" challenges on YouTube, and I lose every single time. I just want to listen to catchy songs, and those have heaps.
I check my emails constantly, as I hate when my Gmail checker widget tells me I have unread mail.
I don't like wearing glasses in the rain as it makes seeing even harder
I have fallen asleep with hair clips in my hair and don't find it till I'm trying to wash my hair the next morning
I never seem to wear earrings
I once dropped my wedding ring into the sink and I have never felt my stomach drop that fast without being on a rollercoaster (it didn't go down, I saved it)
I have an exercise ball and I have no idea how to use it properly, but it's fun.
Thank you once again Esther!
The Smile Tag
Original post here – The Smile Tag
Pamela nominated me for this. Pamela is an amazing blogger who celebrated her birthday last month by daily blogging! She writes so well, and shares her adventures, reviews, travels, baking and everything more. Go say hi!
I again won't be doing the whole tag again, I just really wanted to thank Pamela again for thinking of me 🙂
Dawn Dagger Challenge
Original post here – Dawn Dagger Challenge (1000 likes!)
Janah nominated me this time round! Janah blogs over at WanderSummer, and she is awesome. This is how she describes her blog: "Formerly known as Owl Cities, a chamber of thoughts for the little owl, this blog has metamorphosed and transformed into what it is today: a constellation of things related to art, film, literature and beauty." How amazing of a writer is she?? Go over and check her out if you haven't already!
Here's her questions to me.
What is the first social media platform you signed up to and why?
Ever? I would say Facebook then. This was back in 2009, and everyone was on it, it was the best way to keep track of what was going on.
What do you find as the most difficult thing about being a blogger?
Trying not to let it dictate too much of my time.
What do you find as the best thing about being a blogger?
Interacting with everyone!
If you could switch faces with a famous person, who will you pick to switch faces with?
That seems weird. These body swap (or face swap) questions always make me feel anxious for some reason. I'll stick with my own face 😀
If you could have your life written in a book by a famous author (living or dead), which author will you choose to write your life story?
I don't really know. To be honest, I think I would like to write my own life story. I like having creative control I guess 🙂
The Mystery Blogger Award
Original post here – Mystery Blogger Award
The amazing and wonderful Jirah nominated me for this award too! Thanks Jirah! Also, yesterday, Alli nominated me for this too!! Do you guys know Alli? She blogs over at Wormal Blog, she's hilarious, crazy and so sweet and supportive!
I literally can't think of more facts, so I'll just answer questions:
Jirah's questions:
If you could live in any fictional place, where would you live? And take note, Hogwarts isn't included! :p
Well damn. Can I use a loophole and say Beauxbatons then? 😛 Cause France and magic 😀
Do you spend time in Youtube, if so, who is your favourite Youtuber?
I spend a fair time on YouTube. I watch a whole bunch of things. I don't really have a favourite YouTuber overall, sometimes I just want noise in the background. Someone I often go to for just noise are gamers, mostly Markiplier or JackSepticEye. If I want to pay attention, I normally got for Jenna, Marzia, or Ro. And then sometimes I just go down a hole and watch all the weird shit on there.
Name an artist or a band that you've been loving for years and still love now!
Definitely Ed Sheeran
In your opinion, where do you think is the most beautiful place there is in the world?
I don't think I can narrow it down. There's so much beauty out there, I hope one day I get to see more of it.
I talk about them a lot already. I'm gonna borrow what I said in my first post of the 30 Day Blogging challenge.
Dad – Jeff. Soccer enthusiast. Trivia extraordinaire. King of Rambling Stories that never end. Awesome.
Mum – Julie. Takes photos of everything (like me). Says I love you everytime we see each other. Loves her garden. Queen.
Big sister – Jo. Artist. Procrastinator. Leaves mugs and other dishes everywhere. Tallest being in the world. Amazing.
Little brother – Andrew. Used to be shorter than me, but not anymore. Always has headphones in. Speaks in as little words as possible. Coolest.
Husband – Rory. Partner for life. Leaves cupboard doors open constantly. Surprises me with little gifts. The Best.
Almost Brother In Law – Tibor. Hungarian. Been with Jo since the beginning of time. Great cook. Hates to have his photo taken. Also awesome.
Alli's questions:
What is one big decision you made in your life that could have changed everything?
Okay, so I've talked about deciding to go into study, and of course marrying the Rory. So I'm going to talk about something that has led to much what if-fing in my head, wasn't my decision though. In July 2010, my family bought a house out in the suburbs waaaaay further than where we used to live. Basically to get to uni before was a 10 minutes bus drive, now it became a 30 minute train ride plus a 10 minute bus drive. Jo and I were really against it and made a fuss. But if we didn't move out to this new location, I wouldn't have gotten a job at the local supermarket and met a certain someone (*cough* Rory *cough*). So what would my life be like if we hadn't moved?
Would you rather be poor and in love or rich without a partner?
I'm gonna cheat here and say rich without a partner, because you never said I would be partner-less forever, Alli! 😛 So we could pretend split, I could get all this magic money and then sprint back to Rory and we'll ride off into the sunset with all this new found wealth
What's a fun fact you know that most might not?
Don't remember where I read this, but I think on average there is around 200,000 people born every day. You may wanna check that.
What is one of your favorite lyrics?
Consider the coconuts.
Why did the chicken cross the road?
I'm trying to think of something clever, but I can't.
We've reached the end of another Bonus Round! Thank you again for all the nominations, I really do appreciate when you guys think of me 🙂
Angela.