Saturday
So I woke up at 8am. I didn't get up till 8.30, then I checked blog as I had breakfast (Scrambled eggs on toast if anyone is interested, no picture though). After breakfast, we got laundry done as we always do on Saturday mornings.
It was surprisingly sunny this morning, I got very excited, as our weekends have been so gray lately.
I finished catching up on blogs at around 11, then we got ready to get groceries. By now the sun ran away behind grey clouds again which is a bummer.
After groceries, we got gas for the car, then headed home for lunch. I had noodles cause it's the easiest and fastest thing to make. I really wanted to go to the library. I've reserved another book. The name alone makes me intrigued. "The Subtle Art of Not Giving a Fuck". As someone who cares a lot about what others think of her, this book sounds like so much fun. Also, I saw that there was a copy of The Life Changing Magic of Tidying available, which I have been wanting to read too. So I hunted through the whole section of the library, looked in the returned today section, and asked for help from the librarians, but no one could find that one copy. Someone was probably reading it in the library. So I went and threw a reserve on it, so no one else could take it out except me! 😀
I'm around 3/4 of the way done with Buffering. It's been an interesting read, I knew  only little about Hannah's background, so this is very eye-opening. By the way, at this point the weather had progressed to light rain, and by the time I  was home, it was starting to pour. Thanks winter.
Anyway, today is Rory's dad's birthday. His name is Russell, and he, Rory and his sister Bex planned to watch a movie before we all have dinner together. I opted out as I was super keen to go to the library, and I got back wet and grumpy as Rory was heading out to see said movie. They're also seeing The Mummy, which I was kinda cool with missing out on.
Since I was staying home, I decided to be useful. I tidied (a little), and did the dishes, so we wouldn't have to do them tonight after dinner. Such a good housewife I am.
At 5.30 I headed down to meet everyone outside the theater. We gave Russell his gift (which everyone worked on), it was a photo album with a combination of old and new photos. He really liked it we think 😀
Then we had a nice, chill dinner at Cha.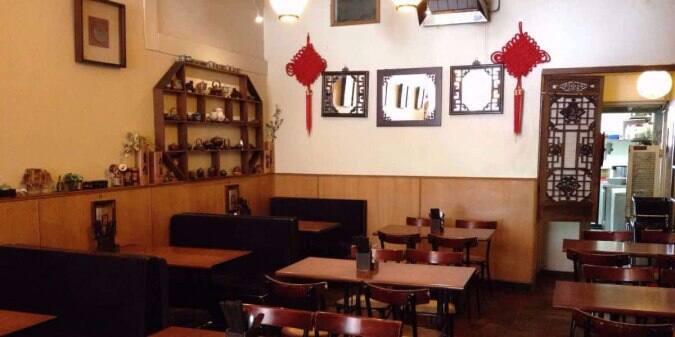 I had chicken with rice and chunks of pineapple. Basically I had sweet and sour. I really liked it. I didn't take too many photos though, as the lighting wasn't great and we were busy talking.
I finished my whole giant plate, and then I was very full. Once back home, I just lay down in bed, blogged, and read. I finished Buffering, and now I can move onto my latest book!
Sunday
I woke up late today, as in 8.30am. I lay in bed and blogged for a bit since I left my laptop next to my bed 😀
I texted my brother Happy Birthday, as he is officially 19! I linked him to my blog post, but who knows if he'll look.
I had breakfast (cereal, and a smoothie Rory made), then got dressed. We planned to go see an open home at 1. We didn't get that dreamy place we saw last week, which we kinda expected. Each time we go for a house, I feel like I'm slowly being dragged back to the reality of what kind of house we can go for. Which is good really, I tend to wander around with reckless optimism, that a reality check is needed now and again. It's a bummer, but we need to set our eyes on what we can realistically achieve house wise.
With that in mind, I felt the need to go for a little walk. It was miraculously sunny and seemed to be staying that way, unlike yesterday. So I decided to do one of our old hikes up Mt Vic. Rory and I used to do this walk all the time. He still often runs it, I normally pass cause running is hard enough without doing it up a hill you know?
This time, Rory was happy staying home as he was getting into his game, so I put on my iPod (which also has a pedometer feature!), grabbed my phone and headed out. It was such a nice walk, the uphill bits aren't as bad as I remember (Perhaps I'm getting fitter from those home workouts 😀 ), and I stopped to take so many many photos, that now I plan to devote a whole post to it later in the week! But here's a sneaky peek.
This detour took 45 minutes, so by the time I got back it was time for lunch. I also got talking with my brother who saw the post I wrote for him yesterday! We had a really nice chat, and it was good to connect with him!
At 1 though, Rory and I took off to go see the open home. We (I) went into it with a critical eye. House hunting is a serious business I've finally realized, so we went around many many times pointing things out to each other and having a chat. We liked the place, it had good bones and seemed like a solid family house. It needs a bit of TLC in terms of repainting, and fixing some doors. But otherwise it seems pretty good. We're still talking about whether we want to make an offer though.
Finally, at 3.30pm, we made our way down to my parents place for Andrew's birthday dinner. We brought over a new type of Cookies we found at the supermarket. A very Kiwi classic if I do say so. It's L&P biscuits!
It was a lovely drive, as the sun was still out and shining, I'm very impressed it stayed out for the whole day.
Once we got over to the Woollett household, we chatted and talked. Then we dragged out the old PS2 to play some childhood games. Namely Buzz, and then of course Singstar. I love Singstar, and we had the best one. Abba of course!
Bless my lovely husband for being game enough to sing at least 5 ABBA songs with me. It was so much fun!
We had a lovely celebratory dinner (all cooked by my amazing mum), and then we dragged out the selfie stick again! This time Mum brought it out without me even having to ask XD
Afterwards, we did the usual Skyping with my sister Jo, and Tibor up in Auckland for the blowing of the cake and presents. Andrew wound up with a gift card to JB Hi-Fi (an electronics store) from Jo and Tib, a new bomber jacket from the parents, and the boardgame Risk from Rory and I.
After the Skype sesh, we wanted to try the game, but then we realised it would take hours, and possibly days to finish. It's one of those games. So we had to postpone till next time. Rory and I decided to head home at 8, as we had work tomorrow (I have a reaallly long day, as I'm on the opening shift at 7.45am, and then we have a two hour meeting after work from 5.30-7.30 😦 ). So we said bye, and then headed home.
I finished up this post, read a little then passed out.
To-Do List
Groceries
Laundry
Russell's birthday dinner
Andrew's birthday dinner
One open home viewing on Sunday
Apply for name change on driver's license and passport – Hahaha, I forgot again. The place where I go to change my name for my license is only open on Saturday from 9-12. It's a small window, and I forget
Go to the library
Finish reading Buffering
Do more research for possible Japan trip
Do a bit of cleaning around the house – Who wants to bet that it'll be another three weeks where this is on the list before we finally do it.
Do some baking as usual – surprisingly no! I was meaning to do it, but we went out and I just didn't make time for it.
Write and schedule posts for upcoming week – I mean, almost.
What did you guys get up to this weekend?
Angela.