Here we are at S! We're reaching the final few weeks of this challenge!
S is for Stranger Things
Another Netflix show! This show alone makes me think our subscription to Netflix was totally worth it. Rory and I absolutely love this show! We got sucked in and binge watched as much as we could in between sleep and work. We finished it in a few days, and watched the last four in concession as we couldn't bear not knowing what happened next. This show has so much hype around it, but unlike so many, it's definitely warranted. Stranger Things is a must to watch if you have even a faint interest in sci-fi, fantasy or thrillers, especially if you love 80s movies, as this has a lot of throwbacks to it (Oh my god the synthesizers!)
Speaking of, let's listen the opening theme.
Also, they have a movie-esque poster for the show which I absolutely love.
Anyway. The show is set in a small Indiana town in 1983. I think the year is picked as sci-fi was big on everyone's screens then. So Joyce's son Will goes missing, and she is hell bent on getting her boy back. The investigation into his disappearance sets of an insane set of events. "As they search for answers, they unravel a series of extraordinary mysteries involving secret government experiments, unnerving supernatural forces, and a very unusual little girl."
This show is just incredible! So many twists and turns, the show stayed with me long after I finished it. The music, acting, cinematography and everything is amazing! I mean I will say, it's dark (like, lighting wise) a lot, but it comes with the aesthetic of the show. Also, this show is incredible since a lot of the main characters are children, and they have so much talent!
So, here comes some gifs and quotes!
Okay, so the last one isn't a quote, but it was one of many awesome moments. I'm trying to keep this fairly spoiler free in case anyone hasn't seen it. Because it really is a show you have to watch for yourself and enjoy the ride!
I'm gonna briefly talk about some of the main characters, and I will again try to keep this vaguely spoiler free.
Eleven (Played by Millie Bobby Brown)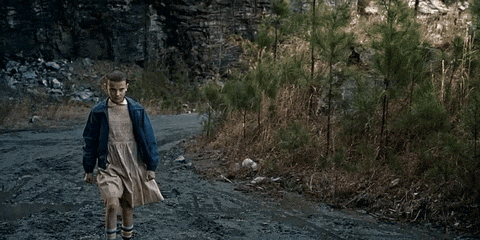 Mysterious. Doesn't talk much. Psychic. Dangerous if you cross her or her friends. Loves Eggos.
Mike (Played by Finn Wolfhard)
Mike is one of Will's friends, he and his friends desperately want to find him, and they come across Eleven, who he is very protective over.
Lucas (Played by Caleb McLaughlin)
Another of Will's friends, he is less fond of Eleven at first (and very suspicious about her mysterious nature), but he comes around.
Dustin (Played by Gaten Matarazzo)
Another friend of Will and co. He is often the one to bring the food, and is very loyal to all his friends (including Eleven).
Nancy (Played by Natalie Dyer) Mike's older sister. Pretty, impulsive and soon becomes popular. Gets caught up in all the intrigue and becomes kinda badass.
Jonathan (Played by Charlie Heaton)
Will's older brother. Very keen on finding Will. Worried about his mum. Loner type. Also ends up involved in all the intrigue (I mean, they all do in the end).
Steve (Played by Joe Keery)
Popular, dumb jock type. Likes Nancy. Seems like (and kinda looks like) Jean-Ralphio (From Parks and Rec).
Chief Hopper (Played by David Harbour)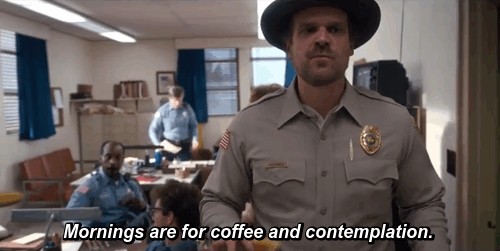 The Chief of the town, he's kinda keen on just letting things go. He's got his reasons, and at first he doesn't think too much of the missing case. But as questions get bigger and more dangerous, he works with Joyce and shows that he's clever and not to be messed with.
Joyce (Played by Winona Ryder)
Will and Jonathan's mum. She's a single mum, and doing her best. She loves her kids, and when Will goes missing, she nearly drives herself crazy trying to work out where he went and how she is going to get him back.
So that's all the characters I'm going to talk about. But seriously, this show is insane, there's so many scenes I'd love to show, but they all pretty much show spoilers.
Okay, I'll just show one of my never-ending favourite moments, don't watch the video if you don't want some spoilers, but this part was just so amazing and I literally clapped when it happened (I just love Eleven).
Anyway, that's all for S. T will be coming up on Friday.
Angela.