So let's start off with this notification.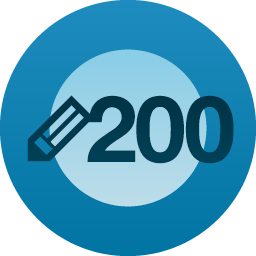 I've been blogging for three and a half months and I've already written 200 posts 😂
Anyway, here's post number 201.
Saturday
Rory went up to Fielding on Friday, as he had the day off, and to celebrate his sister's birthday. I would've come, but this weekend my sister and Tibor were coming down to celebrate my mum's birthday a week early. Balancing all these birthdays for both families is getting more complex than we originally thought. Long story short, I woke up alone. Nothing wrong with that, but it doesn't feel like home without Rory around. The night before, I spent ages waiting for my Q'n'A video to render and process. I wanted to get it up but it finished at 10, and I was tired. So I scheduled it for this morning. Also, thank you again for 800 followers. I keep saying it's nuts, and it still is.
I woke up at 7.30 and blogged till 9. Then I got ready for the day and had breakfast (Scrambled eggs on toast). I started laundry around 10. A bit of a slow start but never mind. After getting laundry sorted, I decided to plan my Favourite Dresses post (with Cheila!) that will be going up later this week. I took photos of all my dresses, as well as me in them. It still feels weird but I had a go. By 11, I decided to start doing some decluttering, and hopefully do cleaning tomorrow. I started with the bedroom as I made a mess throwing dresses everywhere. It kept me going till lunchtime.
At lunch I had noodles. I then got a call from my sister who had just arrived from the airport and was getting picked up by my parents. They offered me a ride over as they knew Rory was out of town. I said "Nah", cause I was happy decluttering and I was getting into it. Plus I wanted to walk to the library and return some books. After the bedroom, I headed into the main room and eyed up my big chair, coffee table and cupboards. I did most of it, but by 1.30pm I was losing steam. So I stopped, and did some blogging and planned to catch the 3.05 train to visit my family.
I walked through the cold (it was luckily not raining), and dropped off the latest books I'd finished reading. Then I kept walking to the station.
I haven't gone on the train in ages, mostly we drive everywhere, but it was quite nice being in that train again. It feels familiar, as I use to ride it on a daily basis when I lived at home and had to get to uni or work.
At quarter to 4, I reached my parent's house. Everyone was there, I said Hello to Jo and Tib, and they were all watched Hell or High Water. I didn't pay too much attention and just played on my phone and talked. Once the movie was over, Rory soon came over. We (Andrew, Rory and I) wanted to play Risk, and dragged in Jo and Tibor. Dad was keen to join but then he needed to get food, so he left. We didn't get too far into the game, as it takes a loooooong time. Basically, we think Rory won. He was all strategic and took over South America, most of North America and Africa. In the meantime, Jo and Tibor kept fighting over Russia, and Andrew and I kept fighing over Australia. Good times. Also, I didn't take these photos, I was too into the game. These I credit to Jo. All us Woollett ladies love to take photos.
Then it was time for dinner! Mum wasn't feeling great, and she had been napping till then, but was happy to join us for dinner. We ate, talked. My blog came up a lot, Mum was wondering how I was able to write so much everyday (so does everyone else really). Jo started scrolling through my posts at the table then played my latest video asking if I was vlogging now. Rory also told me that he was looking through my blog last night too.
Then we started talking about morgues. Mum works at the hospital as a sterile services technician (they clean all the surgical tools and the like), and told us about how she visited the morgue. It was an oddly fascinating conversation, as I have never visited one (I mean, I guess we all will some day), and hearing what goes on behind the scenes.
Anyway, as usual, the selfie stick came out.
Then it was time for cake and gifts. No blowing out of candles though since Mum didn't feel too flash. I gave mum a mug, and one of the cactii. Everyone loved it. I hope to spread the Cactus obsession.
More selfie stick fun.
Surprisingly, Rory then had a go with the selfie stick, but he used it to take photos of me.
Then, at 8, Rory and I headed home. We were very tired, and ended up in bed by a little past 9.
Sunday
So we woke up at 8, and had breakfast at 9. Rory had brought me some treats from High Tea with his family in Fielding 😀 Best breakfast ever. Also, on Thursday night, Rory got me a present for no reason! It was a bigger batch of fineliners, which he knows I wanted (But was resisting buying) as I love colouring with them. I got spoiled, best husband ever! Oh also, it's our three month wedding anniversary today!
We did our own thing for a bit in the morning. I had a brief moment of surprise when I realized I hadn't written any posts yesterday. I normally spend a lot of my Saturday scheduling posts for the week, so now I'm behind. But I'm glad I decluttered. We needed that. So I caught up on reading posts, then began writing.
I also decided I wanted to try do baking this afternoon. Since going through Anni's posts, I saw her Lemonade cupcakes and wanted them. So that's what I planned to make.
We left at 12 to do groceries. We were going to go looking at some open homes but someone (me) confused all the times, so we missed them.
After groceries, we came home and had lunch. I had fried rice, Rory had soup that he made. I continued writing posts at this time, then I set off to trying the lemonade cupcakes from Anni's blog. I did! Look out for that post in a few days 😀
Afterwards I did dishes. I was intending to clean kitchen, but by now it was 5. We decided to go back to our favourite takeout diner which we haven't gone to in months as we're trying to save up more. Five Boroughs! We decided we should have a treat for our 3 month anniversary, and also we just missed their food and shakes. It's so good!
Rory got his usual hot wings. I got something new, a Buttermilk Fried Chicken Burger, and we both grabbed a Very Berry Fizz Shake. They have the best shakes!!
After dinner, I finished up writing my posts for the upcoming week. We started watching American Gods, which I haven't decided if I like or not yet. While watching, I burned a CD for work with lots of our kids current favourite songs, so we don't have to rely on the internet (it's not always reliable, but our stereo is). Then at around 10, we went to bed, mentally preparing ourselves for going back to work the next day.
To – Do List
Groceries
Laundry
Return Buffering and The Subtle Art to the library
Start The Life-Changing Magic of Tidying – actually, no
Do some cleaning – I decluttered a lot, but that was it. I still count it.
Take photos of dresses for upcoming post
Write and schedule more posts
Go to Mum and Dad's for early birthday celebration, and catch up with Jo and Tib
Visit an open home – Messed up the times
Make a CD with favourite songs for work
Do some colouring with new pens! – haven't yet 😦
What did you get up this weekend?
Angela.