We've made it to U! Can you believe we're up to the 21st letter now?
U is for Ugly Betty.
Ugly Betty is a show I remember watching back in the mid 2000s. It wasn't spectacular, but it was entertaining. It's also the only show I could think of for this letter, there is surprisingly not much shows that start with U.
Here's the premise. Betty is a 20 something Mexican-American from Queens who is sweet, naive, and has her own sense of fashion (and adult braces). She ends up as the assistant for Daniel Meade, who is the Editor in Chief of Mode, which is a high end fashion magazine. She gets picked by Daniel's father (and owner of Mode), in an attempt to curb his son's womanizing ways. As time goes on, Betty and Daniel become friends and start to help each other out in both their professional and personal lives. There's also some general telenova intrigue in the background of the main plotlines which is pretty hilarous. It reminds me a little of Jane the Virgin.
This show is silly and fun, while fitting in some nice moments. I will say though, I never made it through the third and fourth seasons. I really liked the first two though.
Shall we look at some quotes?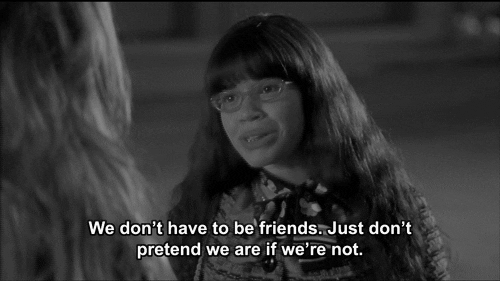 Now as always, let's take a look at the main characters.
Betty Suarez (Played by America Ferrera)
Betty is the main titular character. She aspires to run her own magazine one day. She is relentlessly nice, kind and optimistic. She starts on rocky terms on her new job, especially with her unusual fashion sense (I liked what she wore most of the time, it was crazy colorful). She ends up forming a friendship with her boss Daniel, and they become solid friends. She eventually befriends others at the magazine, and proves that she's an asset, and eventually goes on to greater things.
Daniel Meade (Played by Eric Mabius)
Daniel was given the role of Editor in Chief of Mode by his father. This made him the target of Wilhemina who felt she deserved the job. His womanizing antics with all his assistants led to his father hiring Betty. He eventually sees Betty as a friend, and they form a close working relationship. Eventually he leaves Mode.
Ignacio Suarez (Played by Tony Plano), Hilda Suarez (Played by Ana Ortiz), Justin Suarez (Played by Mark Indelicato)
Betty's family are an important part of the show. Betty is very close to her family, and they are very supportive (most times) of her.
Wilhemina Slater (Played by Vanessa Williams)
The main antagonist of the show. She considers herself better for the Chief-in-Editor role due to her experience. She spends most of the show scheming up ways to take the job from Daniel.
Amanda Tannen (Played by Becki Newton),Marc St James (Played by Michael Urie)
Both are at first mean to Betty, but end up as frenemies and reluctantly helping each other out. Amanda is the receptionist (but doesn't do much), and Marc is Wilhemina's assistant. These two are often not far from each other.
Ugly Betty is a very fun, and at a lot of times, silly show. I can definitely see that Jane the Virgin was inspired by this (another fun show!). Have you guys seen this? Do you remember when it was on?
That's all for U. V will be coming up on Friday.
Angela.