1) Playing For Keeps by R.L. Mathewson
I started this on December 31, and finished it on January 2. I was looking for some light chick-lit to read over the holidays, and this is what I landed on.
I've read my fair share of chick-lit and contemporary romance, but I liked this one a lot more than I thought I would. It's funny, silly, and perfect light summer reading. I breezed through it in under a week, while just lying in my backyard and trying not to fall asleep in the sun.
I rated it 4 stars. Chick-lit is a fun genre, I like to pick it up every now and then. It's light and easy to read. Perfect light reading, but I don't think I'd ever pick it up again.
2) The Hate U Give by Angie Thomas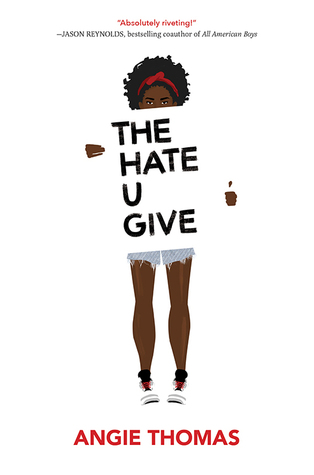 I read this from January 1 to January 9. It was recommended to me by Goodreads.
I have so many thoughts about this book. My mind was just swirling thoughts, and I went through so many emotions. The main character, Starr, is written so well. Her character goes through so much, and like the quote says, her voice is her weapon in this situation. This is one of those books that you have to read, it's so relevant in this current time, and so well-written.
I rated it 5 stars. It was a really powerful read, and at times, I felt the need to put it down just to process what was happening.
3) Talking As Fast As I Can by Lauren Graham
I read this from January 9 to January 16. Another book that was recommended to me from Goodreads.
I'm a huge fan of Lauren Graham. Mostly because of Gilmore Girls. I love that show, and the more I 'researched' into Lauren Graham, the more I was convinced she really was Lorelei in real life. A big part of the book talks about her time during Gilmore Girls, including the revival, so that alone made me love the book. The rest were anecdotal little stories and advice, that just made me happy. The book is fighting for the spot of my favourite biography, alongside Amy Poehler's Yes Please.
I rated 5 stars. Lauren Graham is awesome! I still pick it up every now and then to read snippets, just for a pick me up!
4) One Of Us is Lying by Karen M. McManus
I read this from January 17- 19. I'd heard about this through other blogger's recommendation.
I had seen this book floating around, and after reading about the general plot, I was intrigued. It's like The Breakfast Club but with murder. The book is written well, it's fun, easy to read, but still filled with intrigue. The books jump perspectives from each of the four main characters. I love that the characters are each given time to grow, and to see what's happening. As the story went on, the twists kept coming, and I couldn't put the book down.
I rated 5 stars. Any book that is almost read in one day, will be given a 5 star rating. I was so hooked! I hope she does another book, as I would love to read more from her.
5) Astrophysics for People in A Hurry by Neil DeGrasse Tyson
This took me the longest out of the five books. I read it from January 19, and finished it a month later on February 19.
I love Neil deGrasse Tyson in general, he's cool. Space and the universe in general fascinates me, but it also confuses me. In this book, Neil discusses things from the Big Bang to black holes, from quarks to quantum mechanics, and from the search for planets to the search for life in the universe. It was a lot to process for me, and I had to read parts multiple times. I've read it once, but I think I'll need to read it a few more times to really start to wrap my head around this. If you have a love of Astrophysics, definitely give this a read!
I rated this 4 stars. Don't get me wrong,  I loved this book. But it's just hard for me to wrap my head around, so I can't give it that perfect 5 star rating.
Those are the first five books I've read as part of the 2018 Reading Challenge. My end goal is 30 books, so I'm already well on the way!
Have you read any of these books? What books have you read lately?
Angela.
Find me elsewhere: